I absolutely love the show "Pretty Little Liars". I think is story is both fun, creepy, and interesting. As well as a great storyline, the show also has amazing fashion. I love all the looks the girls wear and since "A" Day is coming I decided to do a countdown till we see A. "A" Day, for those of you who don't watch the show, is basically where the four main girls find out who has been sending them nasty, threatening texts, after their friend was murdered. This first look I did was a similar look to Spencer (Troian Bellisario), who seems like the "brains" of the group. She is the type of girl who is responsible and does well in academics. I think Spencer's style is the least like mine out of the girls, but she does wear cute sweaters and knee high socks. She is very classy and sophisticated, but her look is much more structured and polished than mine. I did the photos inside since it was rainy all day and I look a little tired, still a bit sick. Do you watch PLL? Who do you think A is?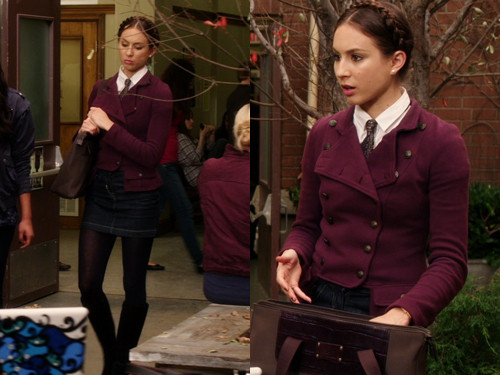 Spencer's makeup look is very natural. Soft, barely there pink lipstick and golden eyes with natural, long lashes.
Spencer's hairstyle I copied. She tends to wear her hair up often, but I thought this waves were fun and pretty.
shirt: homemade
pea-coat: Maurice's
skirt: Target
boots: Nordstorms
makeup: Clinque New Clover blusher, Luxiva Loca Mocha Luminious Shadow, Merle Norman Lasting Eyecolor Ebony, Luxury Color Fever Shine Tempt Me, Clinque Lipgloss Heavenly Pink